In the ever-evolving world of forex trading, ZuluTrade emerged as a beacon of collaboration, merging the expertise of professional traders with the trading ambitions of individuals globally. Founded in 2006 by Leon Yohai, ZuluTrade has redefined forex trading, giving it a social and collaborative edge. But what exactly is ZuluTrade? How does it transform trading dynamics? Let's dissect this platform to get a clearer picture.
The ZuluTrade Vision
The forex market is infamously unpredictable. Newcomers often find themselves on the losing side, with tales of drained accounts after overnight currency swings not being out of the ordinary. Traditionally, budding traders turned to mentors or entrusted their money to professional money managers, hoping to avoid these pitfalls. However, quality mentoring isn't always accessible, and while money managers shield you from immediate risks, they seldom offer insights into the trading world.
Enter ZuluTrade. The platform offered a solution
Why not let new traders observe and replicate the trades of proven forex professionals in real-time? This way, they not only gain firsthand experience but also leverage the expertise of seasoned traders.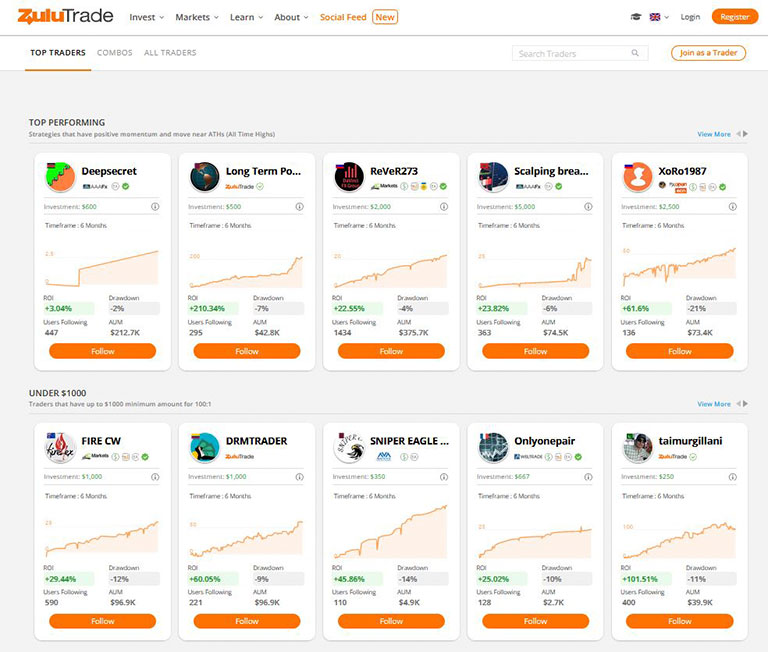 A Deep Dive into ZuluTrade's Offerings
Insightful Analytics: ZuluTrade boasts a robust analysis suite. Users can delve into the comprehensive statistics of signal providers and traders worldwide. This not only offers transparency into past performances but also allows users to make informed decisions on whose signals they wish to follow.
Security & Authenticity: With ZuluTrade, every signal mirrors a real-time forex account trade. This means you're not banking on hypothetical data, but actual trading results. And while trading outcomes may slightly differ owing to variables like brokers or spreads, the authenticity of the data remains undebatable.
Cutting-edge Platform: Collaborating extensively with various forex brokers, ZuluTrade's platform embodies speed, efficiency, and accuracy. It's an inclusive environment, supporting integration with multiple trading platforms. Whether traders utilize ZuluTrade's station or their MetaTrader 4 setup, the platform seamlessly mirrors their trades for subscribers within milliseconds.
ZuluRank - A Game-Changer: ZuluTrade's proprietary algorithm, ZuluRank, offers a simplified yet exhaustive analysis of signal providers. Evaluating factors like trade frequency, profit/loss ratios, or the age of the signal provider, ZuluRank ensures users have a comprehensive understanding when choosing a signal provider.
Broker Compatibility: ZuluTrade boasts compatibility with numerous premier forex brokers. And if you're not aligned with one, the platform's interface allows swift account creation with their affiliated brokers.
Regulatory Framework
ZuluTrade's operations fall under the rigorous scrutiny of the US-based NFA (National Futures Association) and the CFTC (Commodity Future Trading Commission). These regulatory bodies ensure the platform's credibility, safeguarding investors from potential frauds or scams.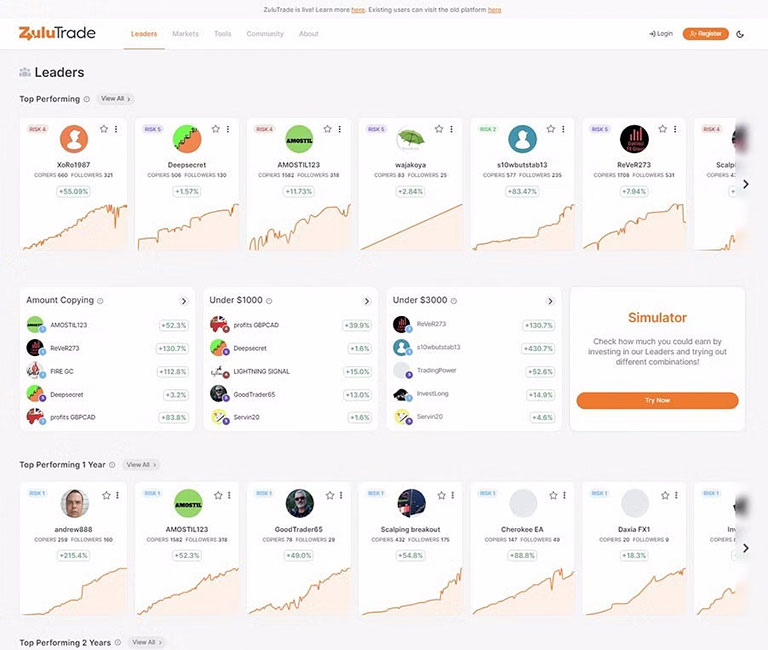 Pros of ZuluTrade
Learn by shadowing: Observe and mimic the trades of global forex professionals.
Hands-off investment growth: Let experts drive your trading decisions while you observe your investments flourish.
A collaborative ecosystem: Foster global connections and share insights.
Cons of ZuluTrade
Broker limitations: Users need an account with ZuluTrade-affiliated brokers.
Account restrictions: The platform doesn't support micro accounts, necessitating at least a mini account with a compatible broker.
Wrapping Up
ZuluTrade stands out as a revolutionary force in forex trading. By harnessing the expertise of professionals and making it accessible to a global audience, it offers a collaborative, insightful, and secure trading experience. Whether you're a novice eager to learn or a seasoned trader looking to diversify, ZuluTrade is undoubtedly worth a deeper look.
ZuluTrade: An In-Depth Analysis
Torn between going long or short? Why not opt for ZuluTrade's solution? Dive into the universe of the premier social trading network and simplify your investment journey. ZuluTrade stands as a beacon in the world of investment, offering a bridge between valuable insights from top traders worldwide and eager investors ready to benefit from them. By facilitating easy copy trading, the platform offers both novices and seasoned traders an efficient way to optimize their trading strategies, whether they're delving into currency pairs or the volatile world of cryptocurrency.
Why Choose ZuluTrade?
Unwavering Transparency: At ZuluTrade, what you see is what you get. We maintain an open-book policy, revealing all performance data without any hidden nuances. Plus, investors can trade with peace of mind knowing there are zero concealed fees.
Cutting-Edge Innovation: With a team that thrives on ingenuity, ZuluTrade constantly evolves. Our experts delve deep into user needs, innovating and enhancing the platform, ensuring your trading experience remains top-notch.
Engaging Social Features: Learn, interact, and grow. Engage with market leaders, grasp their strategies, and converse with fellow traders. This interactive dimension ensures you're never trading in isolation.
Strict Regulation: ZuluTrade prides itself on its credibility, being regulated across several global regions including the EU, SA, Mauritius, and Japan. We uphold rigorous standards, only partnering with licensed brokers to assure our investors of the platform's integrity.
Customer-Centric Approach: At the heart of ZuluTrade is our commitment to you, our valued investor. We're reachable round the clock, offering top-tier customer service through various mediums, be it chat, phone, or email.
Advanced, Unique Features: Elevate your trading experience with ZuluTrade's distinctive features. Delve into Backtest tools, curate your Watchlist, understand Risk-score analytics, and enjoy the security of ZuluGuard. All these tools empower you to make knowledgeable investment choices.
The ZuluTrade Process Simplified
Leaders Onboard: Experienced traders flock to ZuluTrade, where they link their accounts and unveil their tried-and-tested trading strategies.
Rigorous Ranking: ZuluTrade employs a meticulous ranking system, grading leaders on performance metrics, stability, trading behavior, and future projections.
Investor's Choice: Investors, armed with comprehensive insights, select the leaders whose strategies align with their investment goals, risk thresholds, and future financial outlook.
With ZuluTrade, investment is no longer a complex labyrinth but a guided path paved with expertise, advanced tools, and robust support. Whether you're stepping into the world of trading or are a seasoned investor, ZuluTrade's platform is tailored to cater to your every need. Join the revolution and redefine your trading journey!
ZuluTrade: Advantages and Disadvantages
ZuluTrade, founded in 2006 by Leon Yohai, is a renowned platform in the forex trading world, bridging the knowledge gap between expert traders and those new or less experienced in the trading sphere. The platform is known for its "social trading" features, allowing users to mimic the trades of proven forex professionals. Here's a breakdown of the platform's key advantages and disadvantages:
Advantages:
Social Trading:
Learn from the Best: ZuluTrade's primary feature allows beginners to observe and replicate trades from established forex experts in real-time.
Shared Strategies: Expert traders share their strategies, providing a learning opportunity for others.
Transparent Data:
Authentic Trade Signals: Every signal on the platform reflects real-time forex account trades.
Detailed Analytics: Users can view comprehensive statistics of traders worldwide, from their past performances to their present statistics.
ZuluRank Algorithm:
Efficient Filtering: This proprietary algorithm ranks signal providers using various criteria, helping users easily identify top traders based on factors like trade frequency, profitability, and more.
Safety & Regulation:
Regulated Operations: ZuluTrade is supervised by the US-based NFA and the CFTC, ensuring credibility and protection from potential scams.
Data Security: The platform has safety protocols ensuring that user data remains secure.
Integration & Compatibility:
Multiple Platform Support: ZuluTrade is compatible with several trading platforms, allowing users flexibility in their trading operations.
Affiliated Brokers: The platform works with multiple premier forex brokers, facilitating ease in account creation and trading.
Community and Collaboration:
Global Network: Users can connect with traders from all over the world, fostering a sense of community.
Interactive Features: The platform offers tools for traders to interact, ask questions, and share insights.
Disadvantages:
Broker Restrictions:
Limited Options: Users are required to have an account with one of ZuluTrade's affiliated brokers. This limitation may exclude potential users who have existing relationships with non-affiliated brokers.
Account Limitations:
No Micro Accounts: ZuluTrade does not support micro accounts. Thus, newcomers or those with limited capital who wish to start with smaller amounts might find this restrictive.
Mandatory Mini Account: Traders are compelled to maintain at least a mini account with a broker that's compatible with ZuluTrade.
Potential Over-reliance:
Less Active Learning: While copying trades can be beneficial, relying solely on mimicking strategies might hinder the organic learning process of trading.
Risk of Complacency: There's a risk that users may become complacent, trusting others blindly without doing their own research.
Variable Results:
Slight Differences in Outcomes: Due to variables like different brokers, platforms, and spreads, the results of copying a trade might not be precisely identical to the original.
In conclusion, while ZuluTrade offers a plethora of benefits, especially to newcomers in the forex trading world, it's essential for potential users to weigh these advantages against its limitations. Like any platform, understanding its features and conducting thorough research is crucial before diving in.