cTrader stands out as a prominent online trading platform that took its initial steps in 2010 under the aegis of Spotware. With the surge in online foreign exchange brokers' activities, platforms like cTrader play an instrumental role in connecting traders with the global market, ensuring seamless trading operations. Today, cTrader is more than just a trading platform; it is a global community, boasting over a million traders globally.
The Genesis of cTrader
Developed and fine-tuned by Spotware Systems, cTrader made its debut in 2010. The decade since its introduction has witnessed its meteoric rise in popularity, punctuated by regular updates. Currently, the platform boasts its impressive third version, enriched with additional updates. Spotware's primary objective was to craft a top-notch trading platform catering to both brokers and traders, and their commitment to continuous innovation echoes in every update.
Why cTrader Stands Out
The burgeoning popularity of cTrader is primarily attributable to its robust functionality. It offers traders an intuitive interface characterized by its uncluttered layout. However, simplicity doesn't mean compromised utility. The platform is a treasure trove of trading and analytical tools. With over 60 built-in indicators, cTrader stands as a bastion of analytical prowess. Furthermore, it has carved a niche for itself by being one of the safest and most secure trading platforms in the market.
Delving deeper into cTrader's offerings:
Ordering Efficacy: Comprehensive suite of market orders ensuring rapid entry and execution coupled with advanced order protection.
Charting Excellence: Multiple price chart variants, differing time frames, and customizable zoom levels to tailor user experience.
Analytical Might: An arsenal of over 70 pre-configured indicators, supplemented by custom indicators for nuanced technical analysis.
Template Diversity: Up to 50 templates, further amplified by sharing capabilities including embed options.
Algorithmic Prowess: A holistic algorithmic feature for automated trading, allowing traders to construct personalized trading robots and indicators.
Trade Copying: Enhanced fund control with segregated copying accounts.
Universal Access: Web-based trading ensuring cross-device compatibility, whether it be different browsers or operating systems, including Mac OS.
Mobile Versatility: Fully-equipped mobile versions for both Android and iOS that mirror the functionality of its desktop counterpart.
Real-time Communication: FIX API trading feature enables traders to sync in real-time with the cTrader Server.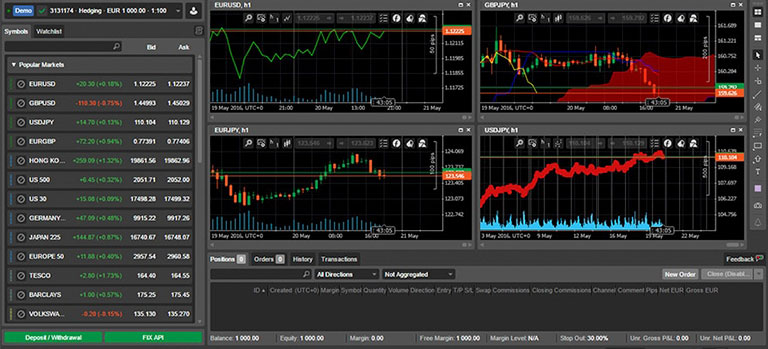 Embarking on the cTrader journey is a breeze:
Desktop: The primary choice for many, it's available on the cTrader website or through supported brokers. A simple download and an easy-to-follow installation guide pave the way.
Mobile App: Catering to on-the-go traders, the mobile version is accessible through Android and iOS app stores. Post-installation, broker login credentials activate the platform.
WebTrader: For those reluctant to download, cTrader offers a web variant. Compatible with all modern browsers, it offers the same rich experience without any download hassle.
In the fiercely competitive realm of online trading, where platforms like MetaTrader 4 and 5 dominate, cTrader's rising star is a testament to its unparalleled quality and diverse features. For traders seeking alternatives to MetaTrader, cTrader emerges as a compelling choice. cTrader Terminal stands as a beacon of modern-day technological advancements in the domain of online trading. Primarily designed to synergize with ECN accounts, this trading platform marries the most avant-garde tools and functionalities. As a result, it adeptly caters to the wide spectrum of traders — from those who are just dipping their toes into the Forex market to the seasoned professionals.
Key Features and Benefits
One of the hallmarks of cTrader is its lightning-fast order execution speed. This ensures traders can capitalize on fleeting market opportunities. Moreover, it equips its users with the capability to monitor the entirety of live market quotes. Such a feature empowers traders to make trading decisions at prices that resonate best with their strategy, ensuring optimal profitability.
cTrader's trading platform provides full STP access to the Forex currency market. This makes it an attractive choice for both professional and budding traders.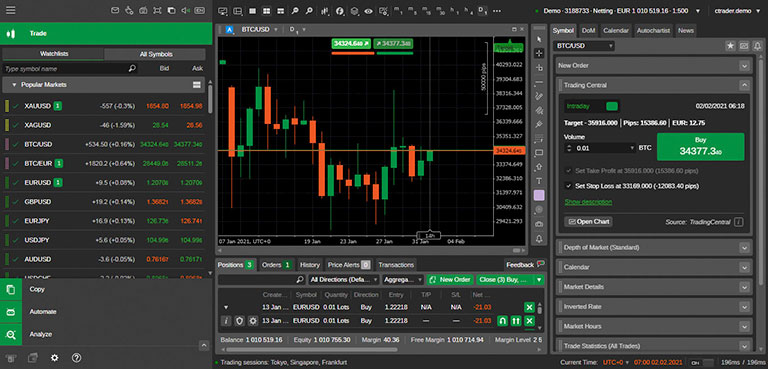 Advanced Technologies Behind cTrader
The cTrader platform is built on the robust foundation of ECN and uses the STP (Straight Through Processing) technology for seamless order processing. The essence of STP is that it facilitates traders to engage directly with the global market by connecting them to some of the world's leading banks like Deutsche Bank, Bank of America, Citigroup, Goldman Sachs, Barclays Plc., JPMorgan Chase, Credit Suisse, and UBS. This direct bridge ensures that there is no broker intervention, making the trading process transparent and efficient.
Furthermore, the platform's NDD (No Dealing Desk) order processing ensures that trades in the Forex market are executed at market prices with just a single click, providing traders an edge in a rapidly moving market.
The Genesis and Evolution of cTrader
cTrader emerged as a solution to the dynamically evolving needs of both traders and brokers. While some brokers had to respond to the increasing demands of traders, cTrader's inception had a singular vision: to offer brokerage services for spot trading and CFD instruments based on the STP/ECN model. The platform's vision and capabilities were first recognized and incorporated by FxPro, a major player in the brokerage world, in December 2011.
In the realm of online trading, where milliseconds can translate to significant gains or losses, platforms like cTrader stand out. With its commitment to transparency, speed, and direct market access, cTrader not only provides traders an edge but also paves the way for future innovations in the trading world. Whether you are an established trader or embarking on your trading journey, cTrader offers tools and functionalities that set the gold standard in online trading.
cTrader Trading Platform: A Comprehensive Analysis of Its Strengths and Weaknesses
Advantages:
Diverse Trading Tools: cTrader boasts an impressive list of trading instruments, providing options such as 83 currency pairs in the FOREX market as well as various metals.
Dynamic Charting: Known for its multifunctionality, the cTrader terminal allows users to generate an unlimited number of charts, tailoring them with various modes, layouts, and templates. Moreover, charts can be opened in separate windows, retaining full functionality.
Indicators: Equipped with a complete suite of tools essential for effective technical analysis, cTrader offers more than 50 indicators. These indicators can be combined, optimized, and even customized using self-developed scripts, enhancing traders' analytical capacity.
User-friendly Interface: Its interface is intuitive and comes with a plethora of customization options, ensuring a smooth user experience.
Level II Pricing (Depth of Market): The platform provides a "Depth of Market" feature, allowing users to see price levels not readily available on many other platforms.
Collaborative Features: With functions like ChartShots and ChartCasts, traders can share their insights and ideas with the community, promoting collaborative trading experiences.
Quick Access: The platform facilitates quick access to the most frequently traded instruments, streamlining the trading process.
Web Interface Trading: cTrader provides the flexibility of trading through a web interface, eliminating the need for software installations and making it accessible from various devices.
Limitations:
Specificity of Use: One significant limitation of the cTrader platform is its specificity towards ECN accounts. This might limit its appeal to a particular set of traders.
Trading Options:
Trading platforms typically offer an array of trading options to cater to different trader preferences, and cTrader is no exception.
One-Click Trading: Available directly from the chart's top, this feature allows traders to swiftly open a position and define its volume. A small bar beneath the transaction also displays the sentiment among the broker's clients. While these are intriguing features, they might not always offer substantial practical value.
Dedicated Trading Window: This method allows traders to set SL/TP parameters before initiating a trade. One standout feature here is the display of potential loss in percentages and currency based on the chosen settings, greatly simplifying risk management. Although it's a slower method of opening positions, it minimizes the chance of user errors.
Transaction Panel: Located on the left, this method, in my opinion, seems a bit "cluttered," compromising its transparency and functionality. Apart from the traditional Buy/Sell buttons, it features the Depth of Market (DoM) which showcases the liquidity distribution at specific price levels. The DoM is available in three modes: VWAP, Standard, and Price. Given the volatile and diverse nature of the Forex market, it's hard to gauge the universal utility of these modes. However, for traders utilizing pending orders close to the prevailing market price, cTrader's capabilities unveil significant potential.
In sum, cTrader, with its myriad features and tools, is a potent platform for both novice and seasoned Forex traders. While it has its limitations, its strengths make it a contender in the world of online trading platforms.
One-Click Trading Settings on the Platform
One-Click Trading Configuration
A valuable feature offered by the platform is the ability to fine-tune settings for one-click trading. Users have the flexibility to either double the settings, completely deactivate them, or access a spectrum of configurations in between by navigating to the transaction window. Within this window, traders can also set up the permissible default price slippage and automate the addition of Stop Loss (SL), Trailing Stop (TS), and Take Profit (TP) with the specified parameters to every trade they initiate. This simplifies the process, ensuring traders do not have to manually input these parameters each time they make a trade.
Order Execution Efficiency
One of the standout advantages of this platform is the lightning-fast order execution time, with orders being processed in mere fractions of a second. Furthermore, there's support for simultaneous order execution. This means that if a trader is initiating multiple trades concurrently, there's no need to wait in any queue – all trades are executed almost instantaneously. The entire range of displayed prices is contingent upon the capital providers. Orders are filled using the Volume Weighted Average Price (VWAP), ensuring a fair and accurate execution price.
Charting Capabilities
Beyond the standard chart types - candlestick, bar, and line charts - there's the availability of a dot chart or "point" chart. Though this might seem like a niche function, certain traders find it invaluable. The platform astonishes with its diverse range of time intervals. In total, there are 26 standard time intervals, further complemented by 13 tick intervals.
The selection is vast, accommodating even the niche Timeframes (TFs) like 4 minutes, 45 minutes, 6 hours, or 3 days. It appears the creators decided to provide users with a broad array of predefined intervals rather than a module to craft their unique ones. However, the freedom to save chart appearances as templates isn't compromised.
Efficiency is also evident in chart customization. Users can easily designate a default template for newly opened charts, allowing modifications across all charts simultaneously. This eliminates the tedious process of individually tweaking every single chart. Plus, there's the added benefit of detaching each chart from the platform – an ideal feature for traders who might want to drag a chart onto a secondary monitor, ensuring seamless multitasking. In essence, this platform amalgamates flexibility, speed, and diverse charting capabilities, catering to both seasoned traders and newcomers. The focus on user convenience and efficiency sets it apart in the trading software arena.
cTrader, a brainchild of Software Systems Ltd, has carved a name for itself in the realm of Forex and CFD online trading platforms. Conceived as a holistic Forex trading solution for brokers, cTrader offers an impressive blend of rapid entry and execution, Level II pricing, and advanced order protection. A standout feature, cTrader Automate, catapults traders into the era of algorithmic trading, allowing them to sculpt trading robots tailored to their unique strategies.
Spotware's 'Traders First™' philosophy underscores cTrader's appeal. By prioritizing transparency and fairness, cTrader has managed to gain the trust of top-tier brokers and amass a global following of traders. This prowess wasn't left unnoticed: the platform clinched the Best FX Trading Platform accolade at the 2018 Finance Magnates London Summit Awards.
Features Tailored for Traders
cTrader is a treasure trove for traders, offering a plethora of features tailored to their diverse needs. The side menu encapsulates manual, algo, and copy trading, coupled with in-depth trading performance analytics.
Manual Trading:
Rapid entry & execution
Level II pricing
Advanced order protection
Asynchronous order processing
Exceptional charting tools, boasting responsive and detachable charts, 70+ pre-installed indicators, and customization capabilities for technical analysis.
cTrader Automate: A comprehensive algorithmic trading module allowing traders to craft, test, and optimize trading robots using the C# language and the potent cTrader API.
cTrader Copy: A user-friendly copy trading solution, allowing traders to replicate strategies seamlessly, with equity-to-equity copying, distinct copy accounts, a versatile fee framework, and intricate analytics.
cTrader Analyze: Provides traders with a bird's-eye view of their performance, encapsulating detailed metrics, charts, and statistics.
Furthermore, cTrader offers a truly omnichannel experience with its desktop, web, and mobile (iOS & Android) iterations, each boasting an intuitive interface and a bevy of features optimized for every device.
Features Empowering Brokers
Spotware, with its expertise in crafting comprehensive trading solutions, has embedded cTrader with tools to address both startups and seasoned brokers. The cTrader Suite provides a turnkey solution that's quick to roll out, seamlessly integrates, scales effortlessly, and guarantees top-tier performance with minimal latency.
cBroker: A management powerhouse offering marketing, risk management, and reporting tools.
cServer: Furnishes brokers with high-availability servers, Equinix Data Center hosting, and a vast global infrastructure.
3rd Party Integrations: Extends functionalities and ensures smooth integration with chosen liquidity providers via FIX API.
Spotware, as a Platform-as-a-Service (PaaS) provider, also takes the onus of providing technical support and regular updates, ensuring cTrader remains at the forefront of trading platform innovations.
Diverse cTrader Features
Premium Charting and Manual Trading: Packed with advanced charting tools and rapid execution capabilities.
cTrader Copy: A paradigm shift in investment, empowering strategy providers to broadcast their trading philosophies.
cTrader Automate: An end-to-end algorithmic trading solution.
Open API and FIX API: Enables developers to construct tailored applications and traders to harness the industry's standard FIX API trading interface, respectively.
cTrader Web and Mobile: Ensure traders stay connected, with browser-based solutions and native mobile applications.
In Conclusion
cTrader, through its impressive suite of features, responsive design, and emphasis on transparency, has positioned itself as an essential tool for both traders and brokers in the Forex and CFD trading domain. Whether you're a novice trader looking for a user-friendly platform or a seasoned broker seeking robust management tools, cTrader emerges as a reliable companion.