SaxoTraderGO is one of the signature platforms offered by Saxo Bank, a leading player in the online trading and investment sector. Saxo Bank has been a dominant figure in the trading and investment landscape for over 30 years. Their mission has been to democratize the trading and investment sectors, making it more accessible to the general public. The SaxoTraderGO platform is a testament to this mission, offering a plethora of tools and features to cater to both novice and experienced traders.
SaxoTraderGO is a comprehensive trading platform developed by Saxo Bank, catering to a diverse range of traders and investors. With a focus on innovation, usability, and offering a vast array of tools, it stands out as a preferred choice for many in the trading community.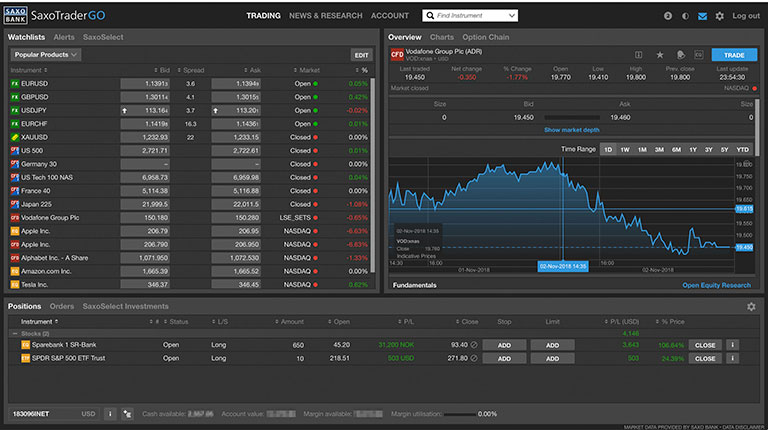 Platform Description
Type: Online trading platform
Developer: Saxo Bank
Target Audience: Traders and investors ranging from beginners to seasoned professionals.
Main Features
Enhanced Trade Tickets: Optimized for speed and efficiency, enabling traders to quickly place orders.
Analysis Tools: Comprehensive suite of both fundamental and technical analysis tools.
Extensive Charting: Allows traders to visualize data, identify patterns, and make predictions about future market movements.
Options Chain: A feature that lists all available option contracts for a particular trading instrument.
Performance Analysis: Tools for monitoring P/L, returns, and historical performance for any timeframe.
Account Overview: Provides a comprehensive snapshot of an account's status and performance.
Research Hub: Curated content that includes news, analysis, trade ideas, and educational resources.
Innovative Risk-Management Features: Advanced tools to manage risk and control positions.
Global Access: Trade a diverse range of assets from 125 global exchanges.
Accessibility
Platforms: Accessible via desktop and mobile devices.
Interface: Supports one-screen setup, but charts can be dragged to a secondary screen for those who prefer multi-screen trading setups.
Asset Classes Covered
Stocks
ETFs (Exchange Traded Funds)
Bonds
Mutual Funds
Managed Portfolios
Options
Futures
Other leveraged products
Support & Service
Saxo Bank ensures that users of SaxoTraderGO receive expert support, either from their in-house Sales Traders or from dedicated Relationship Managers.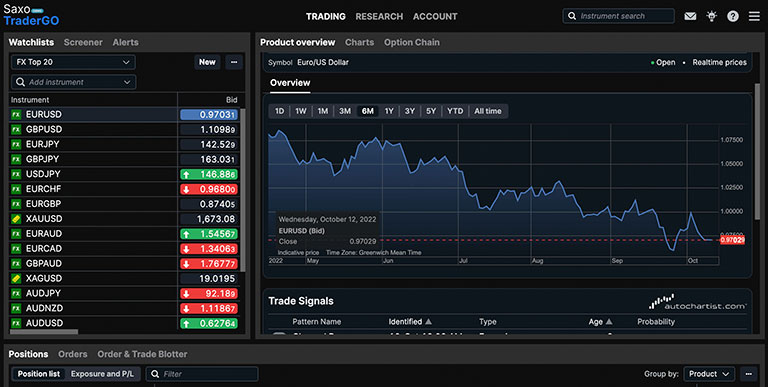 Spotlight Features
Revolutionary Trade Ticket System: Designed with the user in mind, our trade ticket system streamlines the trading process. It efficiently minimizes steps, offering all vital information within the ticket, enabling swift trades with fewer clicks.
Robust Analytical Suite: Dive deep into market dynamics with a fusion of fundamental and technical analysis tools. From breaking news and expert insights to our extensive charting package, SaxoTraderGO ensures you're always informed and ahead.
Holistic Account Overview: Navigate your financial journey with clarity. The revamped account section provides a lucid understanding of your holdings, performance metrics, and a real-time snapshot of your portfolio.
Research Hub: A treasure trove of curated research content, SaxoStrats analysis, latest price data, and more. Whether seeking trade inspiration or the pulse of the market, the hub ensures you're never in the dark.
State-of-the-art Risk Management: Tailor your trading with innovative risk-management tools. From the holistic account shield to intuitive margin alerts, safeguard your investments against market volatilities.
Seamless Interface & Global Access
Experience a seamless one-screen interface, with the flexibility to drag charts to a secondary screen. Accessible on both mobile and desktop, the platform offers a gateway to a vast array of assets: stocks, ETFs, bonds, mutual funds, options, futures, and other leveraged products spanning across 125 global exchanges.
Dedicated Service & Competitive Pricing
Beyond the platform, benefit from Saxo's unparalleled service. Receive personalized support from in-house Sales Traders and dedicated Relationship Managers. And with market-leading entry prices, traders can enjoy tighter spreads and reduced commissions as they advance their trading tier.
SaxoTraderPRO: The Professional's Playground
While SaxoTraderGO revolutionizes general trading, SaxoTraderPRO is tailored for the seasoned trader. It offers:
Customizable Workspace: Manage across six screens, ensuring intricate workspace management and smooth multi-channel linking between modules.
Enhanced Trading Features: From depth trader tools, time and sales data, to algorithmic orders, experience an elevated trading realm.
Advanced Risk-Management: Apart from the staple features, professionals can leverage additional tools to safeguard their investments against unpredictable market shifts.
Universal Asset Access: Dive into a plethora of assets including stocks, ETFs, futures, and more.
Over three decades, Saxo has been at the forefront of democratizing trading and investment. Whether you're a beginner or a seasoned trader, Saxo's platforms are engineered to offer a powerful, seamless, and safe trading experience. Dive in, and redefine your trading journey.
SaxoTraderGO Platform: Advantages and Disadvantages
When evaluating a trading platform, it's crucial to understand its strengths and limitations to make informed trading decisions. Here's an analysis of the SaxoTraderGO platform's advantages and disadvantages:
Advantages
Intuitive User Interface: The platform boasts a user-friendly interface, designed to be intuitive for both beginners and seasoned traders.
Comprehensive Analytical Suite: With a robust set of fundamental and technical analysis tools, traders can make informed decisions based on comprehensive data.
Flexible Access: SaxoTraderGO is accessible on both desktop and mobile devices, allowing traders to monitor markets and execute trades on the go.
Diverse Asset Offering: Users can trade a wide range of assets, including stocks, ETFs, bonds, mutual funds, options, futures, and other leveraged products.
Robust Risk Management Tools: From account shield to margin alerts, the platform offers advanced tools to help traders manage their risks effectively.
In-Depth Research Hub: Provides curated research content, expert analysis, and the latest market news, helping traders stay informed and ahead of market movements.
Global Reach: With access to over 125 global exchanges, traders have a wide playing field to diversify their portfolios.
Competitive Pricing: With market-leading entry prices, traders can benefit from tighter spreads and reduced commissions as they advance their trading tier.
Disadvantages
Learning Curve for Newbies: While the platform is user-friendly, beginners might find the plethora of tools and features overwhelming initially.
Limited Customization on Mobile: While the desktop version offers a more customizable experience, the mobile interface might be somewhat restrictive in terms of layout and tool arrangements.
Account Shield Limitations: The account value shield does not cover bonds and mutual fund holdings, which might leave some parts of a portfolio exposed.
Desktop-Centric Features: Some features, like quick-close positions for all FX and CFDs, are only available on the desktop/laptop version, which can be restrictive for mobile-only users.
Potential Over-reliance on Research Hub: While having a research hub is advantageous, traders might become overly reliant on it, neglecting to conduct their independent research.
In conclusion, while SaxoTraderGO offers a powerful and comprehensive trading experience, it's essential for traders to understand its limitations. This knowledge can help in harnessing the platform's full potential and mitigating any potential challenges.