Thinkorswim is a trading platform of institutional caliber primarily designed for day trading. With cutting-edge systems for monitoring and analyzing investment assets, options, and derivatives, Thinkorswim stands out as an efficient, comprehensive, and powerful financial tool. Thinkorswim isn't just another trading software; it's an immersive, holistic trading ecosystem. Powered by TD Ameritrade, it merges elite trading tools with a seamless user experience, allowing traders to craft strategies, ideate, and execute even the most intricate trades. Whether you're on your desktop, accessing from a web browser, or on the move with your mobile device, thinkorswim ensures you're equipped with top-tier trading tools.
Platform Accessibility
Thinkorswim offers versatility in accessibility. Users can choose between a standalone installation or a browser-based version compatible with both Windows and MacOS operating systems. A distinguishing feature is the CNBC Plus tool, enabling instantaneous playback of current financial market states. This feature is seamlessly integrated with the Live News section, allowing users direct access to CNBC Plus from within the platform. The browser-based version retains the full functionality that users have grown accustomed to in the standalone version. The primary difference is that the browser version requires only an internet connection to perform trading activities.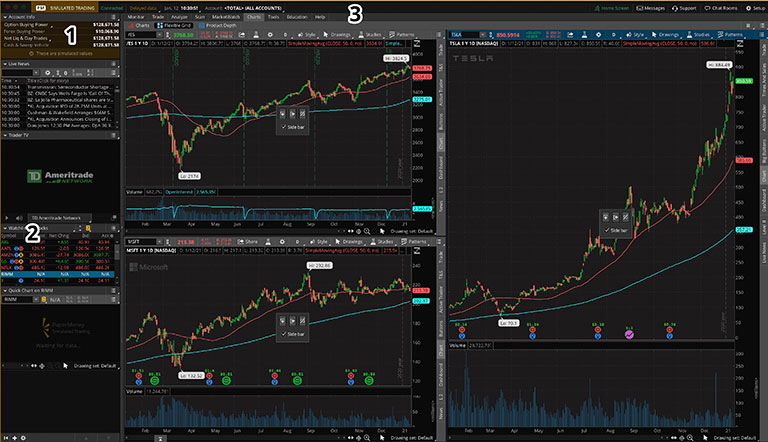 Platform Features
The Thinkorswim (TOS) platform interface is organized into several tabs located at the top: Monitor, Trade, Analyze, Scan, Marketwatch, Charts, Tools, and Help. Clicking on the 'Charts' tab reveals a layout with multiple windows that can be customized using side buttons such as News, L2 (Level 2), Chart, Buttons, Active Trader, T&S (Time and Sales), and Trade. Users can select any combination of these buttons to customize the window layout, adding necessary tools according to their preferences. Additionally, window sizes can be adjusted to cater to individual viewing preferences, be it expanded or compact.
The Thinkorswim trading platform is an invaluable asset for traders proficient in English and seeking to maximize their technical capabilities in binary options trading. By offering state-of-the-art functionalities, in-depth analyses, and intuitive customization, Thinkorswim continues to cater to both novice and seasoned traders, solidifying its reputation in the trading community.
However, a potential limitation could be the language barrier for non-English speaking traders, making it crucial to ensure proper localization or supplementary language support in future updates.
Charts in Thinkorswim: An In-depth Overview
The charts in Thinkorswim are known for their versatility, catering to various trading needs and strategies. Traders can utilize traditional chart formats, such as bars, lines, and candles. Moreover, Thinkorswim offers less conventional charting methods incorporating Heikin Ashi candles and Equivolume (equal volume) presentations. Such diversity allows traders to view and interpret market data in ways most conducive to their trading styles.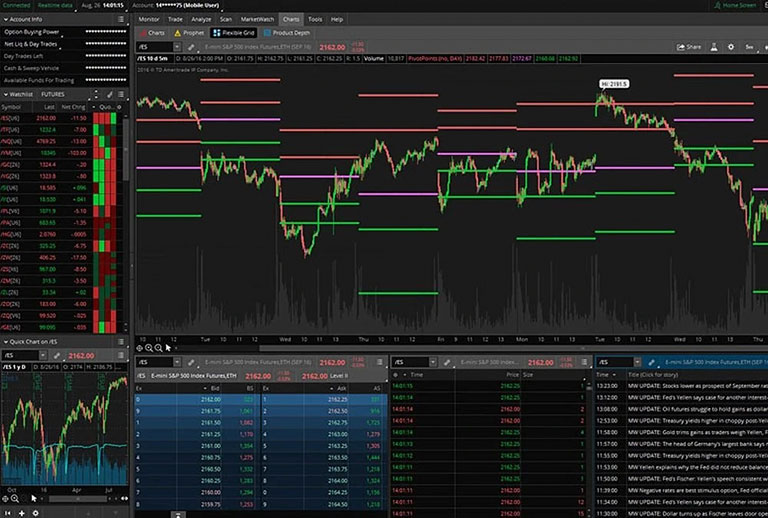 Additionally, these charts can be color-coded and linked with other windows. This feature becomes particularly handy when switching between different stocks across multiple timeframes. For instance, traders typically synchronize windows with one-minute, five-minute, and fifteen-minute charts, offering a broader perspective of short-term price movements.
Advantages of the Thinkorswim Trading Platform:
Direct Trading from Charts: The platform enables users to execute trades directly from the charts, making real-time decision-making more seamless.
Integrated Features: Thinkorswim boasts integrated charts and financial news tapes, keeping traders informed and primed for action.
Custom Indicators: While the platform allows for the creation of personal indicators, it doesn't permit embedding of proprietary trading systems, ensuring a certain uniformity in its operational environment.
Demonstration Mode: Known as 'paperMoney,' this mode endows traders with two virtual accounts, each funded with $100,000 in virtual money. This sandbox environment is perfect for testing platform functionalities and trading strategies without risking real assets.
Automatic Updates: Upon user registration in the application, Thinkorswim checks for available updates, seamlessly installing them in the background.
Support & Training: The app developer offers a complimentary user guide and an extensive array of educational materials, ensuring traders can maximize the platform's capabilities.
Limitations of the Thinkorswim Trading Platform:
Lack of Mobile Alerts: Although Thinkorswim doesn't provide a mobile alert system, users can set up email notifications based on their preferences.
Limited Order Types: The platform offers a restricted selection of trading orders. Notably absent are common order types such as Stop Order and Market Order.
Thinkorswim is undeniably a robust and comprehensive trading platform, rich in features that facilitate informed trading. While it excels in various areas, like any tool, it has areas that could benefit from enhancement. However, the balance of advantages to limitations solidly tilts in its favor, making it a favorite among many traders globally.
Beyond Traditional Trading
Thinkorswim's commitment to creating a comprehensive trading environment is evident in its added features:
Engagement & Community: Engage with fellow traders in specialized chat rooms, exchange insights, and strategies. Collaboration and community engagement can significantly enrich the trading experience.
Educational Insights: Skim through thinkMoney® magazine to uncover valuable trading tips, industry updates, and in-depth analysis. A well-informed trader is a successful one.
Real-time News & Analysis: Keep your finger on the pulse with up-to-the-minute news and pertinent analysis. Partnering with our media affiliates, we offer exclusive commentaries from seasoned industry professionals, empowering you to decipher market events and incorporate them into your trading strategies.
It's no accident that StockBrokers.com heralded us as the #1 choice for Platforms & Tools. Our dedication to innovation and superior user experience has cemented our reputation in the trading community. With Thinkorswim by TD Ameritrade, you're not just trading; you're becoming part of a vibrant, forward-thinking community. It's not just about spotting potential opportunities; it's about seizing them with unmatched precision and intelligence. Embrace the future of trading with Thinkorswim.
In the rapidly evolving world of trading, thinkorswim stands as a beacon, accommodating every kind of trader. Whether you're a novice dipping your toes or a seasoned professional, thinkorswim's versatile platform is crafted to cater to every nuance of your trading journey. Dive Deep into the World of Thinkorswim: Let's delve into the distinct features of each platform, enabling you to identify the perfect fit for your trading style.
Thinkorswim Web:
A newer addition to the suite, this web-centric software ensures streamlined trading. Ideal for those keen on trading equities and derivatives, it provides pivotal tools directly from their routine browser without compromising on quality or speed.
The epitome of convenience and simplicity, thinkorswim web offers a fluid trading experience directly from your browser.
Specifically tailored for those who prioritize efficiency, this platform provides the essentials for a robust trading strategy without the need for downloads or installations.
Whether you're at work, home, or on-the-go, immediate access to the market is always a click away.
Thinkorswim Desktop:
The pioneering platform that set the standard. With its full customization capabilities, it offers unparalleled access to advanced trading tools. This platform allows traders to rigorously test their strategies, foster new trading ideas, and seamlessly execute even the most sophisticated trades.
The genesis of the thinkorswim experience, this desktop platform offers unparalleled depth and customization.
Boasting a suite of elite trading tools, it empowers traders to meticulously test their strategies, foster innovative trading concepts, and seamlessly navigate even the most intricate of trades.
Thinkorswim Mobile:
Bridging the gap between power and convenience, this mobile application brings the prowess of the thinkorswim Desktop right to your fingertips. Whether you're on a phone or tablet, you can analyze market shifts and engage in trading with a platform specifically optimized for mobile use.
Merging power with portability, the mobile version embodies the essence of thinkorswim Desktop within a handheld device.
Optimized for both phones and tablets, it allows traders to scrutinize market trends and engage in trades with the confidence and security synonymous with thinkorswim.
Recognition Through Excellence
Awards serve as a testament to thinkorswim's unparalleled prowess in the trading arena:
#1 Desktop Trading Platform as recognized by StockBrokers.com.
Awarded the #1 Spot for Active Trading.
Acclaimed for having the #1 Platforms & Tools.
Commitment to Excellence
Our dedication goes beyond mere tools. At the heart of thinkorswim lies:
Continuous Innovation: Embracing change to stay ahead of the curve.
Built by Traders, For Traders: A platform designed with genuine trading insights.
A Vibrant Community: Connecting passionate traders worldwide.
Unwavering Support: Guiding you through every step of your trading journey.
Transforming Feedback into Features
Your voice drives our innovation. By actively collating feedback through various mediums like in-app comments, platform analytics, emails, and social interactions, we continually refine and enhance thinkorswim. A testament to this commitment is the inception of thinkorswim web, born out of the desire for a flexible and streamlined platform.
Knowledge is power, especially in trading. Stay abreast with real-time news and comprehensive analysis, equipping you to navigate the market's tumultuous waves with the poise of a well-informed trader.
The thinkorswim experience is not just about trading—it's about revolutionizing the way you engage with the market. With us, you're not just another trader; you're a visionary ready to conquer the trading world.