Founded in 1974, IG stands tall as a premier online investment provider, boasting an impressive legacy of almost five decades. With its fingers on the pulse of global trading, IG caters to over 178,000 clients spread across continents, offering them a vast array of more than 16,000 markets to dabble in. Notably, this rich variety is facilitated through the globally renowned MetaTrader 4 (MT4) platform, complemented by an expansive suite of mobile apps catering to Android, iPad, and iPhone users.
A User-Friendly Experience
Ease of use remains paramount in the realm of trading platforms. First-time traders should prudently compare trading platform brokers, and IG inevitably emerges as a top contender, given its seamless interface. While navigating online platforms can sometimes feel like traversing a maze, IG's integration of the MT4 platform ensures flexibility and simplicity. Beyond just executing trades, the platform equips traders with tools to experiment with strategies, analyze price movements, and swiftly execute deals. Moreover, IG provides traders with advanced features like hedging to counteract potential market shifts and LIFO (Last In First Out) as an alternative strategy.
However, it's worth noting that while MT4 offers hedging, its successor – the MT5 platform – does not, relying instead on LIFO as its primary modus operandi. Choosing between these platforms requires understanding individual trading needs and styles. Given the global reach of the IG platform, multilingual support, including languages such as Chinese, Russian, Japanese, Spanish, and French, is a considerable advantage.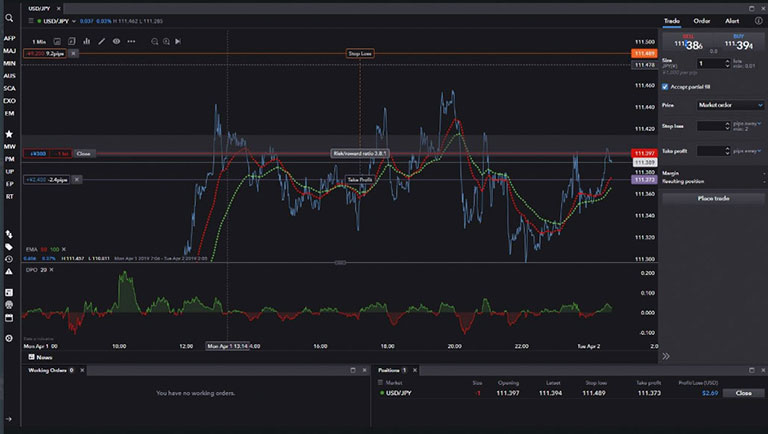 Mobile Trading: The New Norm
The conventional notion of office spaces is evolving, with a shift towards mobile and virtual environments, particularly prevalent among freelancers. IG understands this transition and offers a robust trading app, ensuring traders aren't tethered to their desks. With IG's versatile mobile app suite, available for both Android and iOS, traders can monitor markets, execute trades, and analyze data on the go. The app mirrors the desktop version's functionality, promising an uninterrupted experience across devices.
Swift and Efficient Transactions
In the fast-paced world of trading, swift actions can be the difference between profit and loss. IG's platform prides itself on enabling rapid transactions. With a minimalistic click system, traders can make instantaneous decisions, further accelerated by the platform's one-click dealing feature. Additionally, IG's platform remembers individual trader preferences, eliminating repetitive inputs, and thus ensuring more time for crucial decision-making.
Chart analysis is also expedited on IG. Traders can split charts up to four ways, facilitating comprehensive comparisons across multiple timeframes. The integration of news updates from renowned sources like Reuters ensures traders are always informed.
Training with the Demo Account
Diving into the world of trading can be daunting. Recognizing this, IG provides a demo account, a sandbox environment where budding traders can get a feel of the trading world without risking real money. With £10,000 in virtual funds and most live features replicated, it's a comprehensive training ground. The demo account is also mobile-compatible, extending learning beyond desktop confines.
Market Spectrum on IG
IG's platform is a trader's gateway to a myriad of markets:
Indices: Trade 24/7 on 25 key indices, including the FTSE 100 and Wall Street.
Shares: Engage with over 12,000 shares and harness the spread betting option.
CFDs: Experience the dynamism of contracts for difference without stamp duty.
Share Dealing: Choose from non-leveraged trading or IG's Smart Portfolio for tailored trading.
ISAs: Optimize tax benefits with IG's share dealing rates.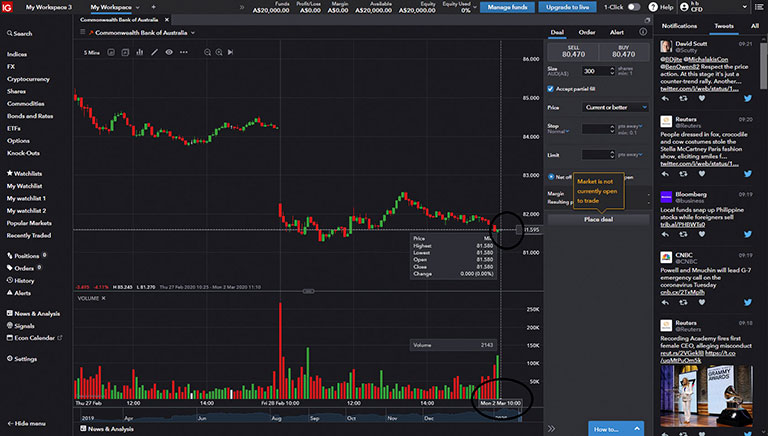 Leveraging MetaTrader 4
MT4 remains a cornerstone in the trading community since its inception in 2005 by Meta Quotes. It's not just a forex platform; IG's integration allows for commodity and indices trading too. MT4's popularity can be attributed to its flexibility, allowing users to employ pre-built algorithms or create custom ones. The platform also provides 18 complimentary apps to enrich trading.
A trader's decisions are as good as the analysis behind them. IG's MT4 offers 30 core indicators, supplemented by 2,000 free custom ones. Whether it's identifying patterns on symbol charts or understanding price dynamics, the platform's analytical suite stands robust.
IG: The Final Verdict
Having pioneered online trading for over four decades, IG's platform amalgamates its vast experience with modern tools, catering to both novices and veterans. From its multifaceted MT4 integration to its mobile-responsive design, IG stands as a beacon in the crowded trading platform space, offering both depth and breadth in tools, markets, and features. Low costs and consistent updates solidify IG's position as a top-tier choice in the trading world.
IG Trading Platform: Advantages and Disadvantages
Advantages:
Established Reputation: Founded in 1974, IG is one of the longest-standing online brokers, known for its reliability and trustworthiness.
Wide Range of Markets: IG offers access to over 17,000 markets, including forex, indices, stocks, commodities, cryptocurrencies, and more.
Advanced Trading Tools: With ProRealTime integration, traders get advanced charting, automatic trading, and other technical analysis tools.
Educational Resources: IG provides comprehensive educational resources, including webinars, online courses, and tutorials suitable for traders at all levels.
Mobile App: IG's mobile app is user-friendly and includes most of the functionality of the web platform, allowing traders to trade on the go.
Regulation: IG is regulated by several top-tier authorities worldwide, such as the UK's Financial Conduct Authority (FCA), ensuring a high level of investor protection.
Research and Analysis: The platform offers regular market insights, analytical tools, and news updates to keep traders informed.
Demo Account: The availability of a demo account allows traders to practice trading and test strategies with virtual funds.
Customer Support: IG is known for its responsive and knowledgeable customer service available 24/5.
Spread Betting: Unique to residents of the UK and Ireland, IG's spread betting option provides a tax-efficient method of trading.
Disadvantages:
Fees and Charges: While IG offers competitive spreads, some of their fees, like inactivity fees, can be high compared to other platforms.
Platform Complexity: For absolute beginners, the platform might seem overwhelming initially due to its array of tools and features.
Limited Product Portfolio in Some Regions: Depending on the region, not all products or markets may be accessible to traders.
Overnight Financing Fees: CFD trades held open overnight can incur financing costs, which might impact profitability.
Minimum Deposit Requirement: IG has a minimum deposit requirement for bank transfers, which might be high for some beginner traders.
Limited Customizability: The platform might not be as customizable as some proprietary platforms or third-party platforms like MetaTrader.
While the IG Trading Platform boasts several significant advantages, especially for experienced traders, potential users should be aware of its drawbacks. It's essential for traders to assess their needs, trading style, and budget before committing to any platform.
IG Group, founded in 1974, is a UK-based company that offers trading in financial derivatives such as contracts for difference (CFD) and financial spread betting. Over the years, it has grown to become one of the world's leading online trading providers.
Platform Offerings:
CFD Trading: IG allows its users to trade CFDs on a wide range of assets, including forex, stocks, indices, commodities, and more.
Spread Betting: This is a tax-efficient way of speculating on price movements, popular in the UK and Ireland. It lets traders bet on price movements without buying the underlying asset.
Forex Trading: With IG, traders can access major, minor, and exotic forex pairs.
Options and Digital 100s: IG provides the opportunity for traders to trade on a range of markets with short, medium, and longer-term timeframes.
Cryptocurrency Trading: IG offers cryptocurrency trading in the form of CFDs.
Platform Features:
User-Friendly Interface: The IG platform is designed with both novice and experienced traders in mind. It offers a clear and intuitive interface that's easy to navigate.
Charts and Tools: Traders have access to ProRealTime charts, trading signals, and a host of analytical tools to help make informed decisions.
Educational Resources: IG provides its users with a plethora of educational materials, including webinars, tutorials, and articles, to help them learn and improve their trading skills.
Mobile Trading: With the IG mobile app, traders can manage and execute trades from their smartphones, ensuring they never miss a market opportunity.
Research and Analysis: IG offers in-depth market news and analysis to keep its users informed about the latest market trends and events.
Demo Account: For those new to trading or looking to test new strategies, IG offers a demo account, providing a risk-free environment with virtual funds.
Security: IG employs advanced encryption and security protocols to ensure the safety and integrity of its user data and funds.
Regulation: IG is regulated by several top-tier financial authorities, such as the UK's Financial Conduct Authority (FCA), adding a layer of trust and security for its users.
Account Types:
CFD Account: Allows traders to speculate on the rising and falling prices of fast-moving global financial markets.
Spread Betting Account: Suitable for UK and Ireland residents, this account allows traders to bet on market price movements.
Share Dealing Account: With this account, users can buy and sell shares from stock markets around the world.
ISA and SIPP Accounts: For UK residents, IG offers tax-efficient ways to invest in the stock market.
Conclusion
The IG trading platform is a comprehensive solution catering to a variety of trading needs. With its wide range of offerings, robust tools, and strong regulatory oversight, it remains a top choice for many traders worldwide. As with any platform, prospective users should conduct their research to ensure it aligns with their trading objectives and risk appetite.