TradingView stands as an unparalleled beacon in the trading world, acting as both an advanced charting platform and an expansive global social network for traders and investors. With over 50 million users, it's revolutionized how traders interact, analyze, and execute their strategies. A Brief History of TradingView Founded in 2011 by the ambitious team of Stan Bokov, Denis Globa, and Constantin Ivanov, TradingView has evolved from a simple idea to a powerful platform synonymous with in-depth financial analysis. Its commitment to continual growth has solidified its spot as a must-have tool for anyone serious about trading.
In the fast-paced world of forex trading, having the right platform can be the difference between making a profitable trade and missing an opportunity. Over the years, many platforms have been introduced to cater to the unique needs of forex traders. One such platform that has gained significant popularity in recent times is TradingView. In this article, we'll delve deep into the platform, exploring its features, advantages, and potential drawbacks.
What is TradingView? TradingView is a cloud-based platform that offers a wide range of charting and social networking features for traders and investors. Originally designed as a stock charting platform, it has since expanded its offerings to cater to forex, futures, and cryptocurrency markets.
Key Features:
Charting Tools: TradingView offers an array of charts, from the basic line and bar charts to more complex charts such as Renko, Kagi, and Point & Figure.
Social Networking: It promotes community engagement, allowing traders to share their analysis, insights, and strategies.
Pine Script™: A proprietary scripting language that lets users create and share custom technical indicators and strategies.
Alert System: Real-time notifications that can be set based on a variety of conditions.
Advantages
User-Friendly Interface: One of the standout features of TradingView is its intuitive user interface. The platform is easy to navigate, even for beginners.
Collaborative Community: TradingView has built a strong community where traders can share insights, seek advice, or simply chat about market conditions.
Affordability: Unlike some platforms that come with hefty monthly fees, TradingView offers a freemium model. While there are premium plans with additional features, the free version is still quite robust.
Cross-Platform Availability: Being cloud-based, it is accessible from any device with internet connectivity. This is especially beneficial for forex traders who require 24/7 market monitoring.
Regular Updates: The platform is continually evolving, with the team behind TradingView regularly rolling out new features and updates to improve user experience.
Disadvantages
Limited Broker Integration: While it offers impressive analysis tools, TradingView doesn't integrate with as many brokers as some other platforms. This might require traders to use multiple platforms simultaneously.
Pine Script Learning Curve: While Pine Script™ is powerful, it does come with a learning curve, especially for those unfamiliar with programming.
Occasional Glitches: Being a web-based platform, some users have reported occasional glitches and lags, particularly during periods of high market volatility.
Freemium Limitations: The limitations of the free version, such as restricted indicators per chart and limited alert settings, might not suffice for advanced traders.
TradingView has carved out a unique niche in the forex market by combining robust charting tools with a collaborative social networking environment. Its user-friendly interface and affordability make it appealing to both novice and experienced traders. However, like any platform, it isn't without its drawbacks. Potential users should consider both its advantages and disadvantages in context with their trading needs and strategies. Overall, TradingView offers a comprehensive suite of tools that can greatly aid traders in their market analyses and decision-making processes.
What Sets TradingView Apart?
Diverse Toolset for Analysis: Traders, regardless of their level of expertise, are catered to with an expansive selection of technical and fundamental tools. Whether you're interested in advanced charting options, such as Heikin Ashi or Renko, or diving deep into company financials, TradingView has you covered.
Global Market Coverage: TradingView ensures its users are always informed by providing comprehensive data on stocks, forex, commodities, and more.
Customization with Pine Script: A truly unique feature, Pine Script allows the creation of personalized indicators, strategies, and alerts.
Unparalleled Social Interaction: The platform isn't just about individual analysis. TradingView acts as a melting pot of trading knowledge, with features allowing users to share insights, follow influential traders, or even broadcast their own analyses through live streams.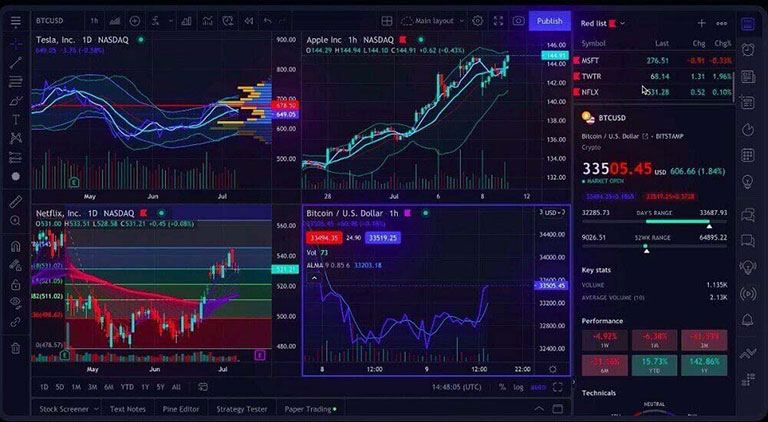 A Deep Dive into TradingView's Core Features
Advanced Charting: TradingView's charting capabilities are second to none. Users can simultaneously compare various assets, making it an invaluable tool for those seeking to understand broader market trends.
Technical Indicators: Over 100 built-in indicators aid in a granular analysis of market conditions.
Drawing Tools: For those who prefer a hands-on approach, there's a comprehensive set of drawing tools for detailed chart annotations.
Alerts and Notifications: Stay on top of market shifts with customizable alerts, which can be delivered through various channels to fit each user's preference.
Fundamental Analysis Tools: For those more inclined towards long-term investing, TradingView offers financial statements, valuation ratios, and other critical company data.
Pine Script: Dive into customization with Pine Script, allowing for tailored trading strategies and indicators.
Community Engagement: The heart and soul of TradingView lies in its vibrant community. From sharing trade ideas to attending insightful video streams, there's always something to learn from fellow traders.
Capital.com Integration with TradingView: TradingView offers seamless integration with Capital.com, merging charting capabilities with trading execution. Users can comfortably transition from analysis to action, all within the TradingView platform.
Is TradingView for You?
The simple answer is yes, whether you're a novice or an expert. Its user-friendly interface makes it an ideal starting point for beginners, while its sophisticated tools cater to the needs of seasoned traders. Over the years, TradingView has transformed the trading landscape, proving itself as an indispensable tool. Its combination of comprehensive analysis tools and a thriving community offers a holistic trading experience. With the ongoing support from investors, such as the recent contribution from Victor Koch, and a strategic partnership with entities like Tiger Global Management, TradingView is set to continue its trajectory as a leader in the trading world.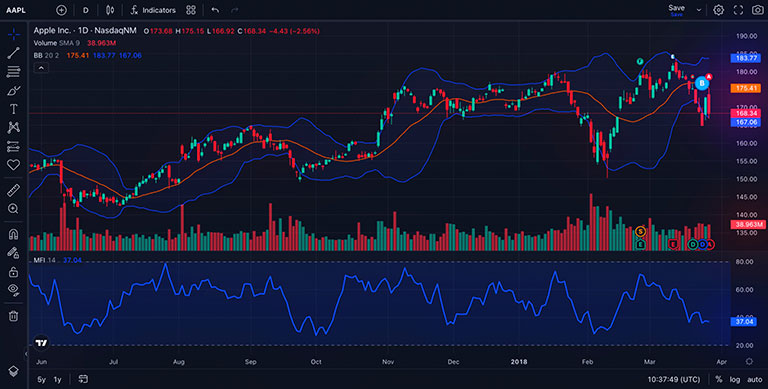 Understanding the Power of Charts in Financial Markets
In the modern era of trading and investment, the role of charts is paramount. With the click of a button, they can tell a story of market sentiment, historical patterns, and potential future moves. With various platforms offering a plethora of charting tools, one stands out: TradingView.
Charting Mastery with TradingView
Diverse Chart Types: With over 15 different types of charts including customizable Renko, Kagi, and Point & Figure, users have an abundance of choices to represent market data.
Multi-Chart View: View up to 8 different charts on a single tab. This feature allows synchronization of symbols, time intervals, and even drawings for a holistic analysis.
Instant Actions: The global command search ensures that you can complete any action promptly, improving efficiency.
Custom Calculations: Devise your own mathematical formulas with the Spreads feature.
Time Intervals Tailored for You: Whether you're looking for second-by-second data or broader range bars, all is available at your fingertips.
Technical Analysis: The TradingView Advantage
Equipped with more than 100 pre-installed popular indicators and a library of 100,000+ public indicators, the platform ensures you have every tool you might need. Key features include:
Advanced Volume Profile indicators
Auto Chart Patterns for real-time pattern recognition
In-depth Multi-timeframe analysis
Efficient Bar Replay to study historical data
Refine and Test your Trading Strategies
Simulate real-world trading with the platform's tools:
Simulated trading on past data
Detailed performance reports of your strategies
Flexibility to change strategy parameters during forward testing
Strategy sharing with the global community
Never Miss a Beat with Advanced Alerts
With cloud-based alerts, never miss an important market movement:
Alerts available on every device
12 varied alert conditions
Technical alerts for detailed market monitoring
Real-time push & webhook notifications
Pine Script™: A Revolution for Traders: This minimalistic yet powerful language allows traders to code their own indicators and strategies. With just a couple of lines in Pine Script™, you can achieve what would take hundreds in other languages.
Deep Dive into Financial Analysis
TradingView offers comprehensive fundamental data:
Extensive data fields and financial ratios
Complete financial statements
In-depth valuation analysis with historical data overlays
Your Financial Social Network
Engage with the world's largest community of traders and investors:
Share and discover trading ideas
Engage with live streaming platforms, sharing your trades and analyses
Real-time chat with traders globally
Market Insights Right at Your Fingertips
Connect to a broad range of data feeds from around the world:
Access to 1,357,880 global instruments
Quality data from institutional-grade partners
Easily compare multiple symbols, view heatmaps of stocks and cryptocurrencies, and group data by various parameters.
Powerful Asset Screening
Search for the ideal assets across 70+ stock exchanges:
Four distinct screeners for stocks, forex, crypto pairs, and coins
Filters across multiple timeframes
Global asset filtering
TradingView has emerged as a comprehensive tool for traders and investors. Its powerful charting capabilities, combined with social networking, ensure users have everything they need to succeed in the dynamic world of financial markets. Whether you're a novice or an experienced trader, TradingView provides a platform that caters to all.
Frequently Asked Questions:
What is TradingView's primary function? TradingView excels in providing market analysis with advanced tools, making it an invaluable asset for traders and investors across various assets, including stocks, forex, and commodities.
How can I trade on TradingView? TradingView has partnered with brokers like Capital.com, enabling users to directly trade from the platform's charts.
What's the cost of using TradingView? While there's a free tier available, TradingView also offers premium subscription plans, each packed with additional features to cater to the unique needs of its vast user base.
Who's behind TradingView? Founded by the trio of Stan Bokov, Denis Globa, and Constantin Ivanov, TradingView recently garnered interest from Victor Koch during an investment round led by Tiger Global Management.