MetaTrader 4, commonly abbreviated as MT4, stands as a stalwart in the realm of forex trading platforms, offering robust tools for financial market analysis and the execution of trading strategies through Expert Advisors (EAs). It's not just limited to a desktop experience; with MT4, the world of forex trading is literally at your fingertips through its powerful mobile trading capabilities.
Furthermore, MT4 introduces traders to innovative features such as "Trading Signals" and "Market". The former allows traders to automatically replicate the trades of seasoned professionals, turning insights into actionable strategies.
The Market, on the other hand, is a dynamic storefront where traders can purchase specialized trading robots and technical indicators to further refine their trading approach. It's no surprise that millions of traders, each with distinct requirements and strategies, gravitate towards MT4 as their platform of choice. The platform's allure transcends proficiency levels, offering a spectrum of features:
Advanced Technical Analysis: Dive deep into market trends, indicators, and patterns to make informed trading decisions.
Flexible Trading System: MT4's design allows for adaptability, letting traders customize their trading approach to align with their objectives.
Algorithmic Trading & Expert Advisors: Harness the power of automation by deploying algorithms or utilizing the expertise encapsulated in EAs.
Mobile Trading Applications: For the trader on-the-go, MT4 offers dedicated apps tailored for a range of devices, from smartphones to tablets.
MT4's reputation as a market leader stems from its user-centric design, marrying simplicity with sophistication. Whether you're trading via a Personal Digital Assistant (PDA), smartphone, or iPhone, MT4 offers a seamless experience. While many brokers and trading centers may tout proprietary platforms with supposedly unique features, often these turn out to be mere interface modifications of the tried and tested MT4. The platform's widespread adoption is a testament to its myriad advantages. In an ever-evolving trading landscape, MT4's enduring appeal stems from its commitment to empower traders with tools, insights, and flexibility, making it the gold standard for many in the trading community.
MetaTrader 4 Key Features
User-Friendly Interface: When stacked against competitors' offerings, MT4 shines with an intuitively designed interface that users, both novices and experts, find comfortable and straightforward.
Feature-Rich Environment: MT4 boasts an extensive suite of functionalities that ensure traders can operate efficiently and leverage advanced technical analysis. Key features include diverse indicators, real-time quotations, versatile graphic tools, and three distinct chart types.
Regular News Updates: Staying informed is crucial for traders, and MT4's constantly updated news ticker ensures users remain abreast of crucial market developments.
Flexible Charting Periods: MT4 supports nine different timeframes for chart construction, letting traders dive deep or take a broad view, as required.
Customization and Testing: MT4's robustness extends to its ability to let users open multiple windows, and even run advisor tests, ensuring strategies are robust before live application.
MQL Programming Integration: For those with a unique strategy in mind, MT4 embeds the MQL programming language, allowing for the creation of custom advisors and indicators.
High Security: All operations are safeguarded with 128-bit encryption, based on a unique algorithm and electronic signature, ensuring confidentiality.
Real-time Quotation: Traders can monitor real-time quotes ensuring they act on the most recent market information.
Archival and Review: Every transaction gets archived, allowing users to revisit and analyze past trades, a feature crucial for continual learning and refinement.
Cost-Effective: One of MT4's significant advantages is its cost structure. The platform is free, with no restrictions on its use, democratizing access for traders worldwide.
Regarded as one of the foremost Forex platforms globally, MetaTrader 4 (MT4) stands out for its accessibility to both budding traders and seasoned market veterans. Recognized predominantly for its automated trading capabilities, MT4 is celebrated for its user-centric design that melds simplicity with deep customization opportunities. The platform seamlessly integrates with various operating systems, making downloads feasible for Android, iPad, Mac, and even Linux users. Its extensive user base, spanning myriad countries, underscores its universal appeal.
MT4 Trading System's Potent Features: MT4's robust trading system empowers users to execute multifaceted strategies.
Key features also include:
Market and pending orders
Instantaneous execution and chart-based trading
Stop orders, trailing stops, tick charts, and an exhaustive trading history
Flexibility with three execution modes, two market orders, four pending orders, and two stop orders complemented by a trailing stop.
Novices can benefit from MT4's demo account feature, offering a safe environment to test strategies before diving into real-world trading.
Salient Advantages
MT4's standout feature is its intuitive interface, enabling new users to master it within a matter of days. Real-time data, encompassing signals and a plethora of indicators, empowers traders to remain abreast of market fluctuations. Coupled with an array of tools for both graphical and technical analysis, news feeds, and currency quotes, MT4 simplifies and enriches the trading process.
MT4 is not just a platform for Forex trading; it's a comprehensive ecosystem for financial market analysis and expert advisory tools. Its in-built mobile trading features, Trading Signals, and Market extensions further enrich the Forex trading landscape. Moreover, MT4's inherent MQL language allows traders to craft bespoke indicators tailored to their strategies. The platform's stringent encryption protocols ensure data integrity and security. Traders can also conveniently access their historical trades from the integrated archive.
MT4's vast community, spanning millions of traders with diverse requirements, benefits from its holistic offerings. These encompass cutting-edge technical analysis, a flexible trading mechanism, algorithmic strategies, Expert Advisors, and versatile mobile trading apps. The additional services, like Signals, facilitate trade copying, while the Market place offers a treasure trove of Expert Advisors and Technical Indicators for purchase.
Analytical Prowess of MT4: MT4's analytical capabilities are among its core strengths. With real-time quotes and interactive charts spanning nine periods, traders can delve deep into price dynamics and swiftly adapt to market shifts. The inclusion of 23 analytical objects and 30 in-built technical indicators further amplifies analytical depth. Yet, these tools merely scratch the surface.
MT4's free Code Base, coupled with its integrated Market, furnishes traders with countless additional indicators, broadening their analytical horizons exponentially. This ensures that traders are well-equipped to identify and respond to market movements swiftly and efficiently.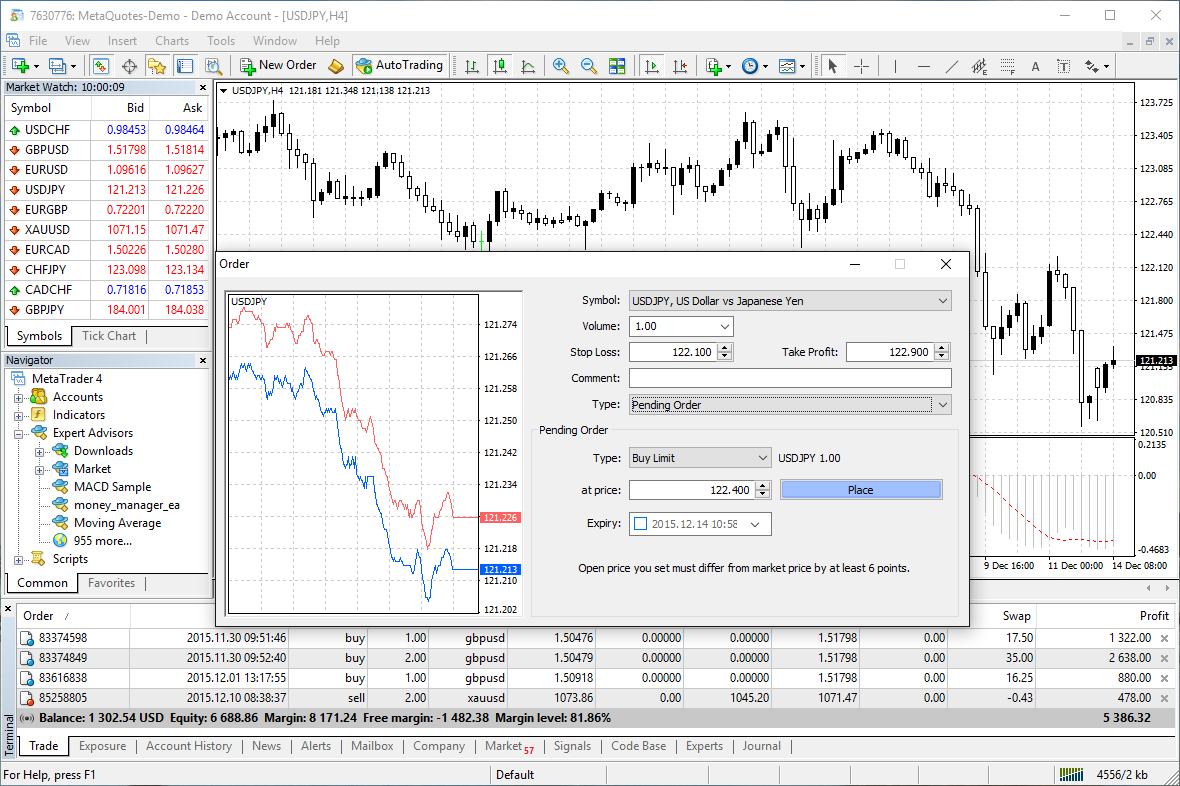 Interactive Visualization Tools:
Comprehensive charts across nine timeframes
A suite of 23 analytical tools
A rich set of 30 technical indicators
As with all platforms, MT4, despite its myriad advantages, has its own set of limitations. Understanding these nuances ensures traders can optimize their experience and navigate potential challenges efficiently. However, as with any platform, MT4 is not without its imperfections.
Weaknesses of MT4:
Issues with Swaps: A primary concern for many is that MT4 doesn't inherently register accruals or deduct swaps. To monitor these, swaps are documented in account histories, but actual registration happens in server logs. This method mirrors practices followed by banks using this terminal, which may not be intuitive for every trader.
Potential for Misunderstandings: New traders occasionally voice concerns regarding the inability to manage swaps. Yet, these challenges can be circumvented using a free advisor or tweaking certain parameters.
Learning Curve: A few criticisms by beginners, in essence, stem from not having a full grasp of MT4's tools. Proper guidance and training can resolve these hitches.
While MetaTrader 4 remains an industry favorite with a wealth of features and advantages, prospective users should be aware of its few limitations, ensuring they make the most of what the platform has to offer. Engaging with the MT4 platform is an intuitive experience, making it a favored choice for traders embarking on their trading journey. Its design, optimized for simplicity and ease of use, ensures that both novices and seasoned traders find it accessible and efficient. Beyond its user-friendly interface, MT4's technical requirements are modest. This inclusivity ensures that virtually anyone, whether they're using a desktop computer, a laptop, or a mobile device, can leverage the platform's features with minimal hurdles.
In a world of complex trading platforms, MT4 stands out by offering both robustness and simplicity, catering to the diverse needs of the global trading community.
MetaTrader 4: Revolutionizing Mobile Trading
Introduction: The MetaTrader 4 Mobile Trading Platform serves as an extension of its well-acclaimed desktop version. The harmony between the two ensures a seamless transition for traders from their desks to the dynamic world outside. Designed to cater to both Android and iOS users, this mobile platform offers traders the flexibility to manage their trades on-the-go without compromising on functionality.
Growing Popularity
With an ever-increasing number of traders embracing mobile trading, it's evident that the allure of flexibility is undeniable. Still, a minority (approximately 10% of the trading community) remains skeptical of its efficacy. Yet, the broader consensus among currency traders is the appreciation of the newfound flexibility in their daily operations. The ease of downloading applications tailored for Android, iOS, and other mobile operating systems makes mobile trading more accessible than ever.
Unparalleled Features: MT4's mobile applications stand out with a rich tapestry of features:
Interactive Quote Charts: Real-time tracking of market movements.
Comprehensive Trading Orders: Equipped with all order types and execution modes, akin to the desktop version.
Analytical Tools: Boasting of popular analytical instruments for a nuanced trading approach.
Instant Transactions: Buy or sell financial instruments with a single tap.
Connectivity: Engage in discussions with fellow traders through a handy chat feature, and stay updated with push notifications.
It's like having the expansive world of Forex right in your pocket, always.
Tailored For Your Needs
MT4 mobile offers customization to fit traders' unique requirements. With sound notifications, traders can stay alert to significant market events. Even offline, the stored historical data serves as a rich resource for market analysis. The MT4 Android OS App is more than just a trading application; it's a holistic trading environment. You can choose from a vast array of brokerage firms and servers. This platform offers everything from a comprehensive trading history, interactive charts, technical analysis, to compatibility with a diverse range of devices.
Key Mobile Features:
Full control over your trading account.
24/5 trading accessibility from anywhere.
Complete trade history.
Interactive symbol charts with bars, Japanese candlesticks, and broken line formats.
Nine varied timeframes, ranging from one minute to one month.
A suite of 30 renowned technical indicators and 24 analytical tools.
Up-to-date financial news, paired with free mobile chat and email support.
Security & Performance
MT4 prioritizes security, ensuring user data remains confidential and all transactions are safeguarded. The performance on mobile hinges on the quality of internet connectivity, ensuring swift operations in optimal conditions.
Advantages of MT4 Mobile Platform:
Multilingual Interface: Enhances user experience across regions.
Customizability: Tailored settings elevate trading efficiency.
User-Friendly Design: Catering to both novices and seasoned traders.
Newsfeed & Notifications: Stay updated with market events.
Technical Analysis Tools: Wide variety, ensuring informed trading decisions.
Optimized Performance: Designed for high-resolution displays without heavy system resource demands.
Limitations:
Screen Size Constraints: Smaller displays can limit the panoramic view.
Internet Costs: Potential additional fees from internet providers.
Limited Features: While robust, the mobile version doesn't encapsulate all features of the desktop counterpart.
The MT4 Mobile Trading Platform is a testament to the evolving landscape of trading, blending efficiency with convenience. Understanding its strengths and limitations ensures traders can maximize their trading potential while on the move.