The NinjaTrader trading platform represents a pinnacle of efficiency in the realm of stock exchange trading. Going beyond a conventional terminal as we know it, NinjaTrader emerges as a potent and unique tool, tailor-made for today's stock exchange demands. This powerhouse of a platform is not limited to Forex trading; it's extensively employed for market analysis, creation, and rigorous testing of diverse trading strategies.
Robust Features for Customization
The hallmark of the NinjaTrader platform is its virtually boundless capacity for customization. It empowers traders to utilize thousands of indicators, strategies, and apps, allowing them to craft a trading environment that's distinctly their own. This adaptive nature is one of the primary reasons why NinjaTrader stands out, ensuring that traders have every tool and option at their fingertips.
One of the standout features is the "Advanced Trade Management" system. Designed to be a trader's vigilant guardian, ATM meticulously oversees trading activities and secures open positions based on pre-established behavioral strategies. This system is pivotal for locking in profits, halting losses, and executing orders – all done through automated break-even stop orders. Such comprehensive technical analysis capabilities have earned NinjaTrader high praise from traders worldwide.
User-Friendly Order Management
Within the platform's 'Order Book' (or 'Level 2' in some terminologies), traders can seamlessly set stop-loss and take-profit levels. In a clear testament to its user-centric design, NinjaTrader has integrated a feature that automatically removes one of the pending orders when another is activated. This proves especially beneficial for traders who lean towards breakout strategies. Consequently, traders don't have to be glued to their screens to monitor prices and manually delete redundant orders – NinjaTrader handles it autonomously.
Breakout Strategy Optimization
Traders with a penchant for breakout strategies find the NinjaTrader's automated order removal particularly advantageous. Breakout strategies often involve placing two opposing orders, with the idea that if one order (say, a buy order) gets triggered due to a price surge, the other order (a sell order) becomes irrelevant. NinjaTrader eliminates the manual monitoring needed in such scenarios, allowing traders to focus on strategy rather than micro-management.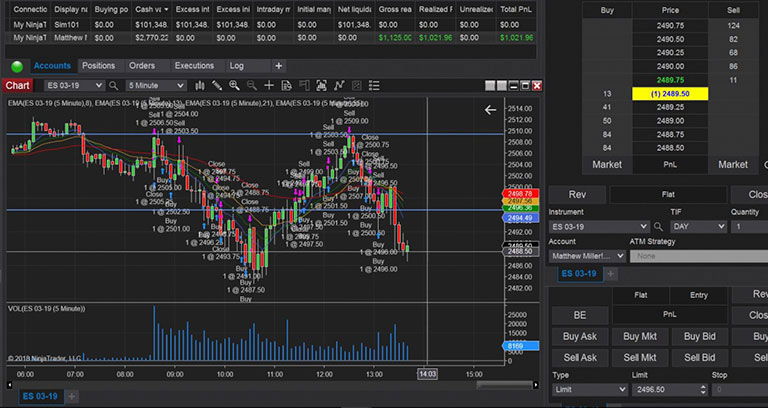 In the competitive landscape of trading platforms, NinjaTrader has positioned itself as a frontrunner. By offering a harmonious blend of customization, strategic management tools, and user-centric features, it provides traders with a holistic environment to excel. For those navigating the intricate maze of stock exchange trading, NinjaTrader is both a compass and a guide.
NinjaTrader: A Deep Dive into its Advantages and Versatility
Flexibility in Strategy Development: NinjaTrader is renowned for allowing its users to craft diverse trading systems and enhance them continuously. This flexibility is invaluable, especially in the ever-evolving world of trading where strategies need constant fine-tuning to adapt to market dynamics.
A Programmer's Delight: The platform is often the first choice for programmers familiar with .NET. Their familiarity with the framework makes it easier to manipulate and adapt the platform to specific needs.
Rigorous Strategy Testing: Any strategy, once created, can be rigorously tested using various methodologies. NinjaTrader ensures that a user can validate the effectiveness of their strategy, promoting a data-backed approach to trading.
Comprehensive Charting System: Regardless of the market you're operating in or the strategies you employ, there's an undeniable need for high-quality graphical data and analytical tools. NinjaTrader's charting system displays data tailored to the user's requirements. Moreover, the platform supports the expansion of technical indicators (with over a hundred available) using NinjaScript™. It even permits order placements directly from charts, offering a seamless trading experience.
The NinjaTrader Ecosystem: Capitalizing on the innovations from the platform's enthusiast community, the NinjaTrader Ecosystem amplifies its capabilities for over 100,000 users via hundreds of third-party extensions and applications. For professional developers, NinjaTrader provides a license authentication service, access to intellectual property protection, and an opportunity to become a part of the dynamic NinjaTrader Ecosystem.
Simplified Strategy Creation and Testing: NinjaTrader comes equipped with mechanisms that greatly simplify the strategy creation and testing process. A user can design a concept, set it up, conduct historical testing, optimize it if necessary, and simulate its real-world application. Only after ensuring that everything is in place and effective should they apply the new strategy on a live account. Such a comprehensive approach, unique to NinjaTrader, is a significant attraction for many Forex traders.
An Analytical Powerhouse: NinjaTrader is fundamentally a trading platform equipped with a potent analytical toolkit, making it ideal for traders whose strategies rely heavily on volumes.
Two Versions to Suit Every Trader: NinjaTrader comes in two versions, catering to the diverse needs of its user base. The basic version provides conventional trading and standard features. In contrast, the advanced version supports automated trading. If you're not an advocate of automated trading, you can save money and use the platform for free. However, if you prefer the automated functionalities, there's a fee for accessing the full version.
NinjaTrader stands out not just as a trading platform but as a comprehensive tool for both novice and seasoned traders. With its robust functionalities and adaptability, it caters to a wide range of trading styles, preferences, and strategies, establishing itself as a stalwart in the trading software arena.
Limitations of NinjaTrader: An In-Depth Analysis
Potential Software Glitches: Users of NinjaTrader might sometimes experience hiccups, especially when processing vast amounts of data. These glitches, while not frequent, can disrupt the trading process and lead to minor inconveniences.
Charting Delays: Whenever there are alterations on the chart, loading can lag. Such delays, although momentary, can pose challenges for traders who rely on real-time data for their decision-making.
High Volume Implications: There are instances where the display can lag when trade volumes or tick volumes are excessively high. In trading, timing is crucial, and these small lags can potentially affect trading outcomes, especially in volatile markets.
Limited Tools from Forex Brokers: The tools that Forex brokers offer for NinjaTrader can sometimes be restricted. While NinjaTrader itself is equipped with a broad range of functionalities, the additional tools that brokers provide might not always match up to every trader's expectations.
Constraints of the Free Version: The free version of NinjaTrader has certain limitations. It does not allow for the creation of trading bots, the integration of paid indicator systems, and lacks Advanced Trade Management (ATM) strategies. Users need to be aware of these restrictions when opting for the free version.
Software Compatibility Issues: NinjaTrader is notably sensitive to firewalls and antivirus software. This means that traders might have to adjust or temporarily disable their security software settings to ensure seamless operation, potentially exposing their systems to external threats.
Final Thoughts: While many traders agree that NinjaTrader is worth trying, choosing the right broker to complement the platform can be a challenge. Reading reviews about Forex brokers can provide valuable insights and aid in making an informed decision. It's essential to weigh the advantages against the limitations to ensure that NinjaTrader aligns well with individual trading needs and goals.
NinjaTrader, a comprehensive trading platform, combines a user-friendly interface with an array of advanced features tailored for both novice and experienced traders. Not only does it offer tools for efficient trading, but it also aids in market analysis, trading strategy development, and testing.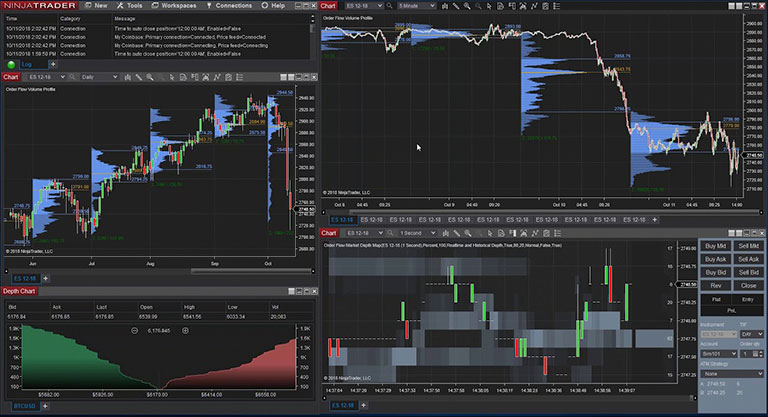 Core Features of NinjaTrader
Rich Charting Capabilities:
NinjaTrader offers state-of-the-art charting functionalities, setting it apart from many of its peers. It allows traders to seamlessly trade directly from the chart.
With features such as order flow, volumetric bars, and market depth, traders can validate and affirm their directional market assumptions, giving them a cutting edge in their decision-making process.
Dynamic Market Analysis:
Real-time Market Scanning: Traders can monitor a myriad of markets simultaneously. The platform ranks, scans, and sorts market data tick by tick based on the trader's predefined conditions, offering opportunities to spot potential trades swiftly.
Advanced Alert System: Beyond just notifying traders, this alert system can initiate custom notifications, share insights on social media, and even place orders based on the user's market analysis.
Advanced Trade Management:
This crucial function facilitates the oversight of the entire trading process. Brokers using NinjaTrader can guard open orders using thoroughly tested strategies.
The platform's review often highlights the automated stop-order feature, which is a favorite among many users. This function helps in locking in profits and minimizing potential losses.
Additional Analytical Tools:
Option Chain Access: Allows for swift management of option expirations, giving clear visibility to strike prices and quotes.
FX Board: An essential tool for those trading in the vast forex market, this feature helps users seize market movements effectively.
Traders also benefit from other tools like Time & Sales, Level II, Hot Lists, and the latest market news.
NinjaTrader Editions:
NinjaTrader provides flexibility with two distinct versions:
Basic Version: Ideal for those who prefer a hands-on approach, this version permits manual order placements.
Extended Version: Tailored for traders who favor automation, this edition brings in advanced automated trading functionalities. Both versions receive consistent support, ensuring users have a smooth trading experience.
Demo and Support
For those keen on a trial before fully diving in, NinjaTrader offers a demo version. This allows potential users to familiarize themselves with the platform's various features. Additionally, the platform boasts a multitude of tools for market analysis, charting, and data presentation, ensuring that brokers can make the most of their trading directly from the charts.
Whether you're looking to analyze market trends, develop bespoke trading applications, test strategies through simulations, or execute trades, NinjaTrader promises a holistic solution for all trading needs. It stands as a testament to what a well-rounded trading platform should look like in today's fast-paced market environment.
NinjaTrader is a popular trading platform that caters to both beginner and advanced traders in various markets, including forex, futures, and stocks. In this comprehensive review, we'll explore the key features, trading platforms, tools, and overall user experience that NinjaTrader offers. Dive into the world of futures trading with NinjaTrader – an award-winning, integrated trading platform optimized for the demands of modern futures traders. With NinjaTrader, futures trading is more than just a transaction; it's an experience. Tailor, train, and triumph with our robust platform.
Trade Anytime, Anywhere
Embrace the Power of Cloud-Based Trading Stay connected with the market dynamics across all your devices. NinjaTrader harnesses cloud-based technology to enable seamless futures trading, be it on a mobile device, PC, or Mac. With our platform, you're empowered to manage your account, keep track of prices, place orders, and scrutinize charts no matter where you are. Experience the freedom and flexibility of making informed decisions through interfaces meticulously crafted for swift and enlightened trading on our elite futures trading platforms.
NinjaTrader's Versatile Suite of Platforms: Choose your ideal trading environment from a plethora of options:
NinjaTrader Desktop: Our pinnacle futures trading platform supports multiple monitors, boasting access to thousands of apps and add-ons, ensuring an unparalleled personalized trading experience.
NinjaTrader Web: An intuitive, web-based solution for traders who prefer a streamlined platform.
Mobile Apps: Stay connected on the go with our mobile applications designed for agile trading.
Superior Tools & In-Depth Analysis
NinjaTrader doesn't just provide platforms; it equips traders with tools to thrive:
Advanced Charting: Craft tailor-made charts accessible from any device. Customize with various styles, timeframes, and over 100 technical indicators.
Depth of Market Tools: Our SuperDOM is built for speed and convenience. Analyze, place orders, and strategize with utmost accuracy.
Powerful Quotes: Modern, clear quotes for rapid market analysis and informed decision-making.
Advanced Trade Management: Automate your strategy with preset stop orders, target orders, and self-adjusting trailing stops to keep emotions at bay.
Streaming Market Replay: Relive historical market data, tick-by-tick, mirroring real-time conditions.
Order Flow Analysis: Visualize order flows to discern buying/selling pressures and validate market shifts.
Unlock The Full Potential
Customize to Your Heart's Content NinjaTrader's C#-based architecture invites innovation:
Personalize with thousands of third-party indicators, strategies, and apps to fashion your bespoke trading interface.
Build comprehensive apps utilizing NinjaTrader's cutting-edge C# trading framework, offering granular access to balances, orders, executions, and beyond.
Sharpen Your Edge with Simulated Training
Embark on your trading journey backed by our FREE futures trading simulation. Arm yourself with professional-grade market data, enabling you to venture into live futures trading with unwavering confidence.
No initial funding mandates.
Enjoy the platform without any fees.
Practice in a risk-free environment until you're primed for the live market.
NinjaTrader Features
Advanced Charting: NinjaTrader provides an extensive library of technical indicators, drawing tools, and customizable chart styles. Traders can analyze price movements and patterns with precision.
Market Analysis: The platform offers tools like Market Analyzer and Hot Lists to help traders identify potential opportunities based on various criteria, such as volume, volatility, and price movement.
Algorithmic Trading: NinjaTrader supports automated trading through its NinjaScript programming language. Traders can create and customize their own trading strategies or access pre-built strategies from the NinjaTrader community.
Advanced Order Types: Traders can use advanced order types like OCO (One-Cancels-the-Other) and trailing stops to manage their positions and risk effectively.
Risk Management: NinjaTrader allows traders to set stop-loss and take-profit levels directly from the chart, helping them manage risk efficiently.
Simulated Trading: The platform offers a simulated trading environment that allows traders to practice strategies and hone their skills without risking real capital.
Trading Platforms:
NinjaTrader provides two main trading platforms:
NinjaTrader 8: This is the latest version of the platform, known for its user-friendly interface and powerful charting tools. It supports various asset classes and trading instruments.
NinjaTrader 8 + CQG: This version integrates NinjaTrader 8 with Continuum by CQG, offering direct access to global futures markets and real-time data.
Advantages of NinjaTrader
Advanced Charting: NinjaTrader's charting tools are among the best in the industry, suitable for both technical and fundamental analysis.
Automated Trading: Traders can build, test, and deploy their own custom trading strategies or use pre-built strategies from the NinjaTrader community.
Market Analysis Tools: Market Analyzer and Hot Lists provide real-time data insights to identify potential trading opportunities quickly.
User-Friendly Interface: The intuitive design makes NinjaTrader accessible to traders of all skill levels.
Simulated Trading: The platform's simulated trading environment allows for risk-free practice and strategy testing.
Disadvantages of NinjaTrader
Learning Curve: While NinjaTrader is user-friendly, fully utilizing its advanced features and customization options may require a learning curve, especially for less experienced traders.
Cost: While the platform offers free basic features, some advanced features and data feeds may come with additional costs.
Limited Asset Classes: While NinjaTrader supports various asset classes, its primary focus is on futures trading, which might limit its appeal to traders interested in other markets.
NinjaTrader is a versatile trading platform with a focus on advanced charting, automated trading, and market analysis tools. Its flexibility and customization options make it a popular choice among both beginner and experienced traders.
However, traders should consider their trading preferences, asset classes of interest, and potential costs associated with advanced features before committing to the platform. It's recommended to take advantage of NinjaTrader's free trial to evaluate whether it aligns with your trading needs and strategies.